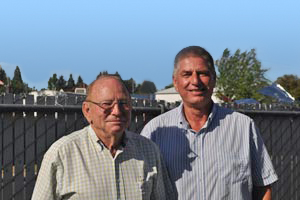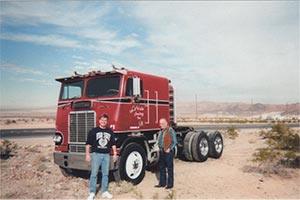 In 1996, my Father and I began to consider running our own trucking company. My Father Al, was part time retired and didn't plan to work much longer he agreed to help in every way possible. I knew my organizational skills were pretty good but I was quite concerned about my mechanical ability. Al however, can fix anything.

On December 17, 1997 LaVoie Trucking, Inc., purchased our first semi-tractor. A 17 year old cab-over Freightliner with 2 million miles on it. This truck provided the perfect mechanical learning tool that I needed. We put the truck together and on January 6, 1998 our first pay load was hauled.

Shortly after we decided to purchase a brand new flatbed trailer. Dad an I embarked on a trip to Salt Lake City in the middle of winter to make the purchase. Our Freightliner had no heat, no defroster, no power steering and no air-ride suspension. A winter storm was approaching and I wasn't sure the timing was right to go on this trip. Al however was sure, so we went.
"I drove until I got so cold that I had to crawl into my sleeping bag in the sleeper in an attempt to get warmed up. I woke up after a short nap to see Al still trucking and heavily clothed from head to toe. I think we were both suffering from hypothermia. Wondering about our decision, I did realize that if we continued to work as hard as we did that frozen night we might just survive the first year of business."
It's been 15 years since that trip and we have purchased several brand new tractors and trailers.

My Dad officially retired in 2004. LaVoie Trucking Inc. still employs work ethic, honesty, integrity and loyalty we started with.
"We truly appreciate our customers, employees and all of those who have helped us through the years."
LaVoie Trucking, Inc.

Mitchell Tony LaVoie
Owner